Northern Ireland based PS Engineering designed and fitted this Stainless Steel Single Spine Staircase. PS Engineering prepared this floating staircase for a new dwelling which was built in Ballymoney, Northern Ireland.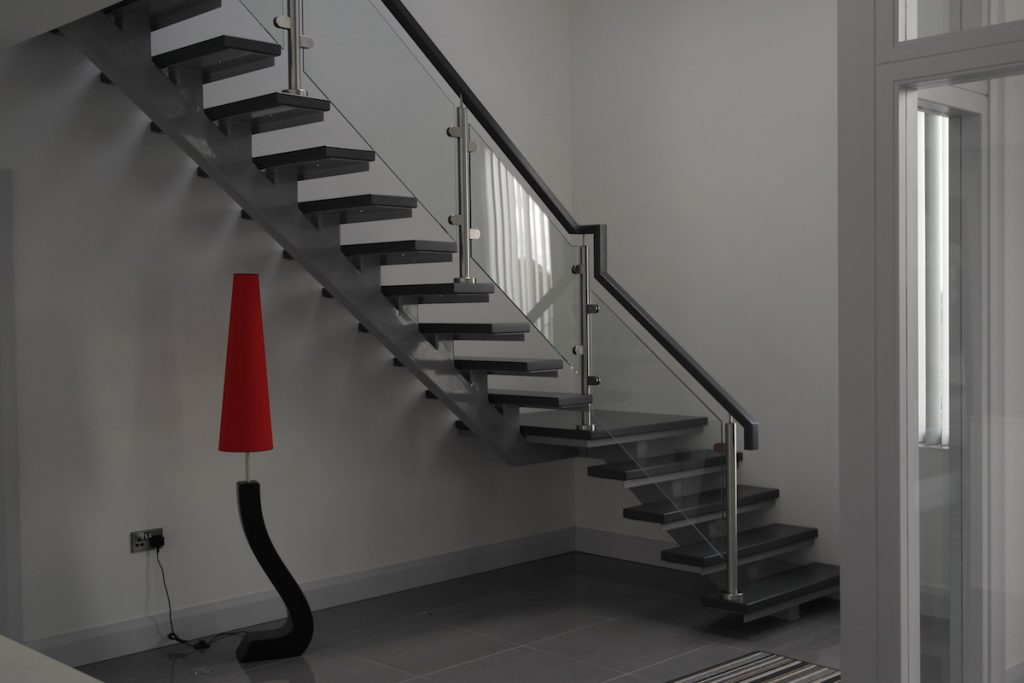 Stainless Steel Single Spine Staircase by PS Engineering
The clients wanted a modern, unique staircase which would be a focal point for the whole house. PS Engineering took measurements and met with the clients to provide a bespoke design for their new home. PS Engineering designed the bespoke steel staircase to meet all relevant Building Control standards.
Stainless Steel Single Spine Staircase being prepared at the PS Engineering Workshop

This uniquely designed and manufactured Stainless Steel Single Spine Staircase was completed with a beautiful oak handrail and treads.
PS Engineering were also able to provide safety glass for this project.

Our client is highly impressed with all aspects of the job:
"a fantastic job; professional service and highly knowledgeable"
It was a challenge to create such a unique stainless steel staircase, given the precision required. At PS Engineering we love to meet clients and discuss their bespoke project. This staircase is a focal feature and a talking point in this beautiful house. Adding a uniquely designed staircase to this new homes sets it apart from others and adds a real feeling of luxury and grandeur.
Northern Ireland steel fabricators PS Engineering can make steel staircases to measure. Every project in Northern Ireland is unique and here at PS Engineering we will measure up, design and fabricate your staircase to your exact specification and design.
This was a brilliant project to work on and it is great that it looks so well. Our client is extremely pleased with the outcome and the service we provided. PS Engineering are based in Northern Ireland and provide stainless steel design and manufacture throughout the UK. If you have a bespoke project which you would like to speak to PS Engineering about please call 07739 715 754 for a chat.